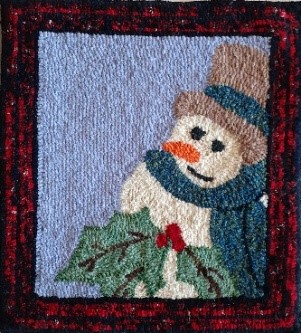 Beginner Rug Hooking Workshop - Snowman
BEGINNER WORKSHOP
Hooked Rug Museum of North America (HRMNA)
9849 St. Margaret's Bay Road, Hwy 3, Queensland, NS B0J 1T0
COVID-19 RULES AND RESTRICTIONS ARE IN EFFECT
ALL STUDENTS MUST BE FULLY VACCINATED, PROOF REQUIRED DAY OF CLASS
MASKS ARE REQUIRED WHEN NOT SEATED
GENERAL INFORMATION
DATE: May 14, 2022 Saturday 9:30am - 4:00pm
May 15, 2022 Sunday 9:30am - 4:00pm
LOCATION: Hooked Rug Museum of North America (HRMNA)
9849 St. Margaret's Bay Road, Hwy 3, Queensland, NS B0J 1T0 902-858-3060
Web: https://www.hookedrugmuseumnovascotia.org email: hookedrugmuseum@gmail.com
TEACHERS: Suzanne Conrod and Sherry Chandler are both Certified McGown Teachers who have taught many workshops in Nova Scotia and elsewhere.
WORKSHOP: The Workshop is open to beginners or to anyone who wishes to improve on their rug hooking skills. A video on "how to hook" will be shown followed by instruction on how to hook and finish the primitive rug shown in the photo above. Also demos will be given on other aspects of rug hooking including dyeing wool and yarn.
REGISTRATION: Registration Form is on the HRMNA web site: https://ww.hookedrugmuseumnovascotia.org
under Tab: Hook-Ins/Workshops.
Payment: (1) E-Transfer to hookedrugmuseum@gmail.com; email registration form separately
(2) via cheque mailed to address below along with registration form
(3) at the Museum, registration forms available there.
REGISTRAR: HOOK RUG MUSEUM of NORTH AMERICA
9849 St. Margaret's Bay Road, RR #2, Hubbards, NS B0J 1T0
Confirmation of registration upon receipt of both registration form and payment.
Total registration fee for 2 days - $120.00
- includes registration fee
- includes KIT (pattern, wool and hook). The Museum can provide a hoop during the class.
- Coffee,tea will be provided. Please bring your own lunch, snacks, cutlery and mug.
- Please do not bring anything with nuts due to severe allergy concerns.
KITS: Included in registration fee. Pattern, Wool and Hook. Please bring your own scissors.
HOOPS/ HOOKS: If you have your own frame or hoop please bring them OR
You can purchase a hoop from the Hooked Rug Museum for $35.00 (no tax) OR
You can borrow a hoop from the Museum for the workshop
** Any questions, please call Sherry Chandler @ 902-275-4743 or email hookedrugmuseum@gmail.com