Shaded Flower Workshop - October 16, 17 & 18th
Amazing work accomplished at this workshop led by Doug Rankin of Highland Heart Hookery here at the museum. Here are photos from the end of the 3rd day.
July 11th Hook-In
Here are a few photo collages from our last hook-in on July 11th.
July 11 Hook-In Collage 1
July 11 Hook-In Collage 2
July 3rd - 5th Maud Lewis Workshop
Our second workshop of the season was a big success with 19 people registered and instructed by Doug Rankin. Here are a few photos from this event.
MLWS_001
MLWS_002
MLWS_003
Left: Hard at work, Middle: Doug giving advice, and Right: Ann Rankin with all her lovely wool.

Ta Da!!! Here is the progress made on some of the Maud Lewis patterns:
MLWS_004
MLWS_006
MLWS_007
Maud_Lewis_010
MLWS_005
Hook-In June 13th
Our first hook-in of the 2015 season was a great day which started out with heavy rain and ended hot and sunny. It was great to see many of our old friends from last year as well as welcome new rug hookers to the
museum. So much beautiful work to be seen! Collage on the right are our door prize winners (with presenter and volunteer Joan Sponagle).
0613Hook-In_001
0613Hook-In_002
0613Hook-In_003
Proddy Flowers Workshop - June 11th
When I arrived at the museum to take photos to add to the website of the Proddy Workshop I had never seen so many rug hookers so intent on what they were doing. The results were beautiful and I think everyone was very happy with their very productive day. Many thanks to Leanne Sitler, Connie Bateman, and Janice Buckingham who came up from Pennsylvania to put on this workshop for us. Here are a few photo collages from the workshop.
Proddy001
Proddy002
Proddy003
Saturday, May 2, 2015
The Hubbards Writers Society held day 2 of their Writers Festival at the museum. It was a day of workshops and socializing in our beautiful museum.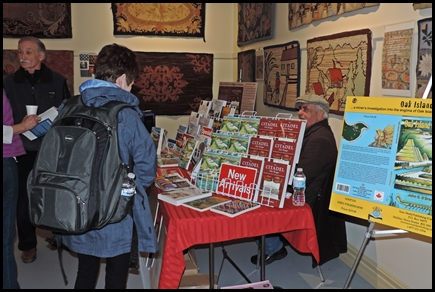 HWS01
Left - one of the many displays set up
HWS02
throughout the museum.
Right - Editor's Association of Canada display
Off-site Hook-in at Tantallon Library, April 18, 2015
HRMNA held a drop-in hook-in at the library to bring awareness of the museum to the surrounding communities. We thank all the ladies who came to hook with us and share their stories and beautiful work.
Left: Founding Director Suzanne Conrod;
ight: Director Sherry Chandler
Far Left:
A roomful of busy rug hookers
Middle:
Cheryl Schnare &
Director Linda Crowell
Right:
Founding Director Suzanne Conrod with her gorgeous paisley
Left: Pat Devereaux's stunning peacock
Middle: Andre MacLean's beautiful floral rug
Right: Edwina Doubet's tribute to her father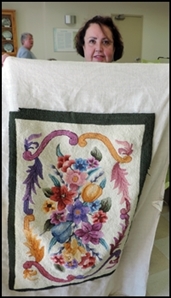 *******************************************************************************************************************
On March 27th we held an off-site hooking event at Cameron Hall, Parkland (senior complex). It was a fun day as we were joined by residents of Cameron Hall and adjoining buildings, many of whom had enjoyed hooking, knitting, needle point and other handwork.
Following are some photos from the event.
Checking out the tables full of books, rugs, and other items. Director at Large Ann Smith with Heather and Shirley, getting ready to pull a few
(from Back & left: Event Coordinator Linda Crowell, loops.
Barb, Bernice and Linda)
Meet Bernice Robertson who dropped in for a day
of hooking.
Bernice moved to Nova Scotia in 2009
from Ontario where she used to hook in the
Gravenhurst area. She was happy to find fellow
hooker Barb nearby when she moved to Lower
Sackville. She came to the hook-in with her
neighbour and friend Barb, right.
At left, Bernice holds up her beautiful hooked
piece.
Edna Emms, formerly from Chester, was happy to see the "Publicover girls", Cheryl (Schnare) and Susan (Lord).
She is a resident of Cameron Hall and brought a few of her originally designed hooked pieces for us to see.
Below Left is Edna with her lovely red trilliums which are framed by a crochet over cording border.
Below:
Bernice and Founding Director Suzanne Conrod
working on their rugs.