2023 International Rug Hooking Artist of the Year is Guatemala's "Multicolores"
Left to Right: Carmen Maldonado, Photo by Joe Coca, Irma Raquel Churunel Aju, Photo by Susu Hauser, Maria Ignacia Vicente Jocol, Photo by Joe Coca
Photos from Left to Right:
Carmen Maldonado (Photo by Joe Coca), Irma Raquel Churunel Aju (Photo by Susu Hauser), Maria Ignacia Vincent Jocol, (Photo by Joe Coca)
Photos from Left to Right: Petronila Set, Photo by Joe Coca, Maria Sacalxot Coti, Photo by Joe Coca, Yolanda Churunel Aju, Photo by Joe Coca
Photos from Left to Right
Petronila Set, Photo by Joe Coca Maria Sacalxot Coti, Photo by Joe Coca Yolanda Churunel Aju, Photo by Joe Coca
Multicolores is an association of 62 Maya women artists
(35 rug hookers and 27 embroiderers)
Based in 9 communities in Guatemala, these women create original works of textile art using rug-hooking and embroidery.


Through their work, the artists celebrate their Maya heritage and become catalysts for social change in their families and communities.


The hooked rugs are crafted from recycled t-shirts, sourced at second hand clothing stores known as paca stores, named after the bales in which clothing is shipped. Each rug contains fabric from 75 to 125 different second hand garments. In their design process, artists blend ancestral motifs drawn from traditional Maya clothing, inspiration from the natural world, and their own imagination.


Multicolores supports the artists through three programs: creative and economic development, health and well-being, and leadership. These Programs have been transformative, leading to compelling and inspiring artwork, healthy communities and emerging women leaders.

With their earnings from Multicolores, most artists have become the top income earners in their family. The artists' increased economic independence means they can invest in schooling, home improvements, nutrition, healthcare, and more.



---
---
2023 Canadian Rug Hooking Artist of the Year, Tanya (Tatiana) Knodel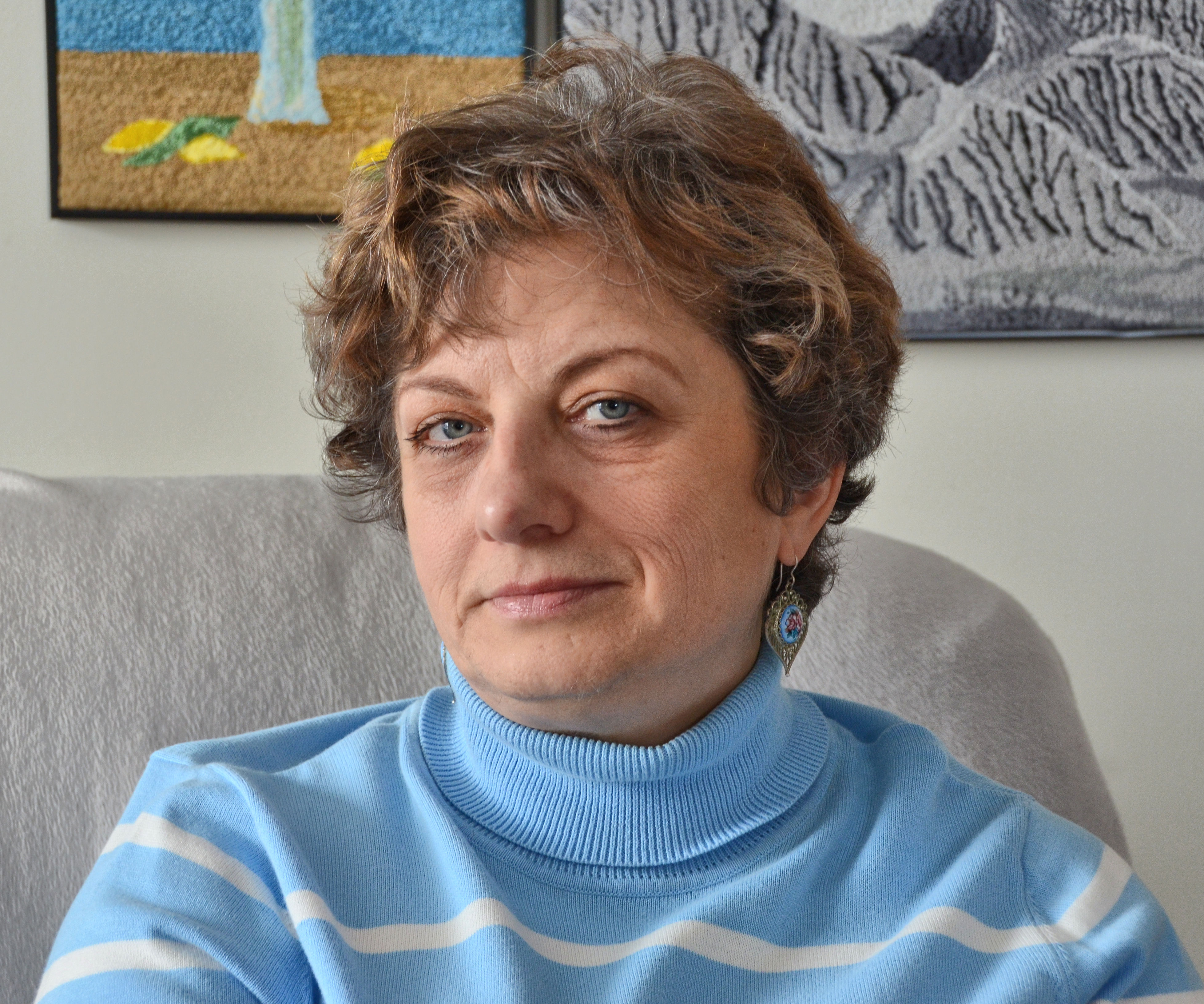 Tatiana (Tanya) Knodel
It was the year 2008. I was sitting in my living room in Sudbury and recognized that the fun in my life was over. I could not go back to Russia and continue my work as a scientist because my daughter chose to continue her education in Canada.
Soon afterward, my friend invited me to a Rug hooking group in Sudbury. I had no idea what rug hooking means, but it was a chance to leave the home and meet local people. My friend gave me a piece of burlap, a hook, and wool strips, and told me to draw something and just pull the strips through the backing.
The Sudbury rug hooking group is composed of several incredibly talented people with a wealth of knowledge, raw beginners, and everything in between. The women share information and technique and learn from each other in a non-judgmental and fun environment. I learned that rug hooking is not simply about covering floors. Rug hooking is much more than that. Historical tradition, individuality, creativity, beauty, and colour come together in a hooked rug. And, I learned that cut #8 is not mine to enjoy. The whole year I made one small wall hanging 8" x 10" using acrylic yarn. I did not know anything about rug hooking, did not enjoy it at all, and mainly came to the group for social entertainment.
Left to Right... "Four Seasons" 31"x31", "Black and White" 31.5"x31.5" and "Flock of Butterflies" 32"x32"
In 2009 two of my friends invited me to take a trip to the Fiber Festival in Nova Scotia. It was eye-opening for me. I discovered that I could make rugs with #3-cut and put as many small details as wanted. When I came back, I could not stop hooking for two months. I cut all loops in the wall hangings. My hands were so sore that I could not hold the hook for a month. Rug hooking has certainly changed my life. I was so happy that I found the world of rug hooking. I believe that there is no right way to hook, the same as handwriting. I developed my own individual style. Rug
hooking became the passion that filled my life. I developed an interest in realistic details. I tried to capture the exactness of the image in the #2 and #3 cuts and at the same time, I was playing with colour and texture. It was always exciting. And I was thrilled when I archive a good result. For me, rug hooking is like painting. I consider myself a self-taught fibreartist.
Adventure with Colours each panel is 12"x16" #3 cut hand-dyed wool on linen
Most of the time I design my own rugs, but I have hooked a few patterns also. I choose the pattern that speaks to me, and I have an image in my mind how I will hook it. My favorite rug is "Flying Geese" by Thor Hansen (28"x 53") which was featured in "Celebration XXIV". I was so driven to this pattern that I made the rug in 8 weeks. If I tried to make this rug now, I probably would use the shading technique. Because I had no idea what shading was at that time, I worked on the rug using bold colours. "Geese in Flight" The size of the rug is 28" x 53", #3-cut wool on the burlap.
In 2014 I discovered the art of dyeing wool. My background in chemistry helps me a lot to get the colour that I want. When I dye wool, I do not write down the formula. If I do not have enough dyed wool, I could match the color by comparing colours. It is fun to challenge myself.
"Geese in Flight" 28"x53", #3 cut wool on burlap, Designed by Thor Hansen
The Chinese calendar is very popular in Russia. Almost every Russian knows the animal of the year he or she was born. You can buy Chinese New Year figurines, and calendars. Many of my friends put on New Year's Eve clothes of the appropriate color. My husband is originally American and when we moved to Canada my daughter missed all that. I decided to give her the Chinese New Year rug - as a New Year present. She was so happy that I have continued to make rugs for her for 10 years. Last year I made two rugs: one for 2023 and one for 2024.
Chinese New Year Rugs
In 2019, I was selected as an artist in Rug Hooking Week's Feature Exhibit – Hooked on Dimension, where a collection of my ponchos was featured.
I have made more than 200 pieces and six of my rugs have been featured in "Celebration of Hand-Hooked Rugs".
My article about making ponchos using the rug hooking technique was published in Rug Hooking Magazine in the fall issue of 2018.
An article about Chinese New Year animals was published in Rug Hooking Magazine in the winter issue of 2020.
The article "Simple Geometric" was published in the winter issue of 2021.
16 of my pieces are featured in Janet Conner's book "Magnificent Hooked Rugs". The article "How to make the purse match the piece of clothing" was published in the winter issue of 2023.
I am a certified teacher of the Ontario Hooking Craft Guild and I belong to the rug hooking group "Rugs on the Rocks" in Sudbury, Ontario. I am a member of the Nova Scotia Rug Hooking Guild too. I taught at Ontario Annual Conference and Sauder Village Rug Hooking Week. In 2023, the North American Rug Hooking Museum in Nova Scotia selected me as Rug Hooking Artist of the Year – my work will be displayed at the museum from May 1 – October 9, 2023. Making rugs is more than a hobby for me. I find it is a means of self-expression. I believe rugs have limitless potential as an art form. Every new rug involves the use of different artistic elements, and I am happy to share my experience with others. My favorite style of rug hooking is a fine cut (#2 and #3) with sculpting. But I enjoy all the other styles. I most enjoy making bags that match clothes. My work can be seen on my website: https://www.tatianafibreartist.ca
Sauder Village Display
---
---